Tokyo, November 24, 2016—Fuji Electric Co., Ltd. (TSE:6504) ("FE"), headquartered in Tokyo, Japan, led by President Michihiro Kitazawa, is pleased to announce the release of its "145 kV Gas-Insulated Switchgear" (hereinafter, GIS) conforming to the IEC Standard.
1.Background
Switchgears open and close the electrical circuit (turn on and off the electric current) in power plants and substations and they protect equipment during short circuits and the like. A GIS is a type of switchgear that comprises disconnectors and circuit breakers, etc. housed and insulated in airtight enclosures filled with gas. Because this switchgear is compact compared to air-insulated switchgear, it has spread primarily in urban areas. Since Fuji Electric delivered its first 72 kV GIS in 1970, we have expanded the lineup from 72 kV to 300 kV, achieving great delivery results.
The demand for switchgears is increasing along with the current advancement of power plant and substation construction from the expanded global energy demand. Fuji Electric promotes global business expansion centered in Asia, and this time we have developed the "SDH714" GIS that conforms to the IEC standard. We will continue to expand toward power companies in Asia and the Middle East, as well as toward local Japanese-affiliated companies. We also plan to launch products for the Japanese market (conforming to JEC standard) in 2017.

2.Product Features
(1) Significantly reducing the installation cost through compact size and light weight
By using aluminum alloy in the airtight enclosure while reviewing the circuit breaker structure, we achieved the most compact and lightweight class in the industry (a 30% reduction in the installation area and 35% reduction in the weight compared to our traditional products). The costs are greatly reduced for construction in the case of indoor installation, and for foundation work in the case of outdoor installation.
(2) Halving the number of parts replacements for the opening and closing operation mechanism
We enhanced the durability of the circuit breakers and disconnectors and met Class M2 of the IEC standard (passing the test of opening and closing 10,000 times). We halved the number of parts replacements for the opening and closing operation mechanism, compared to our traditional products (Class M1: test of opening and closing 2,000 times).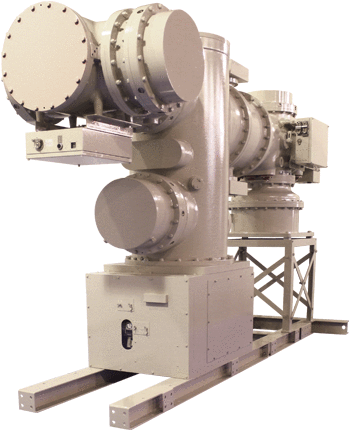 3.Product Specifications
Rated Voltage
Rated Normal
Current
Rated Breaking
Current
Circuit Breaker
Operating System
Dimensions (mm)
From 72.5 to 145kV
Up to 3,150A
40kA
Motor-charged spring
W 900 x D 4,685 x H 3,415
4.Timing of Release
The date of this announcement
5.Product Inquiries
Plant Sales Department, Fuji Electric Asia Pacific Pte. Ltd.
Telephone: +65-6533-0014