Low Voltage Variable Speed Drives (LV VSD)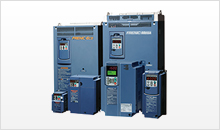 The Variable Speed Drive FRENIC series is equipped with functions and performance to meet all types of requirements, and in addition it is easily maintained and environmentally friendly. The series lineup ranges from simple to advanced-function models, enabling model choices matching situations for use. Fuji Electric provide Variable Speed Drives perfect for automating and with energy saving devices like a fan pump or carrier and variable speeds.
Medium Voltage Variable Speed Drives (MV VSD)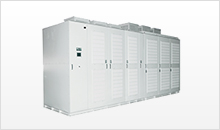 With high efficiency and high power factor, Fuji Electric's Medium-voltage Variable Speed Drives contribute significantly to cost reduction and energy conservation. Fuji's Medium-voltage Variable Speed Drives products are applicable in a wide range of fields from plants to general industry and feature superior ease of maintenance.
Servo Systems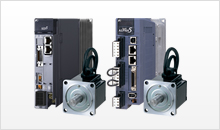 Fuji's servo system can be adapted to several types of motion control, from high-function like synchronization and interpolation to simple-function motion control like Point-to-Point positioning. Meanwhile, the improved auto-tuning function and new option like servo operator make the machine control with high-speed and high-accuracy be achieved more easily.
Programmable Logic Controller (PLC)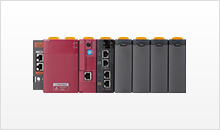 PLCs have the central control role in various fields, including manufacturing and public systems, and in service fields. They can be used to construct optimal small and large-scale systems.
Human Machine Interface (HMI)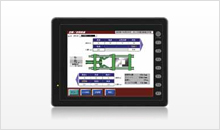 Fuji Electric's Programmable Operation Display (POD) provides vivid and sharper images in more than 60,000 colors. Our POD supports up to 8 languages, and contributes to enhance the efficiency of plant management by simplifying the customer's system around the world.
Motor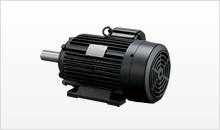 Here we introduce semiconductor products best suited for power conditioners that convert solar-panel generated DC power into AC power to enable the residential consumption, as well as to facilitate the recovery of the power to the power systems of power companies.
Uninterruptible Power Supply (UPS)
Fuji Electric 's UPS and power solutions have the best product specifications with the latest technology. Fuji's products are available in the 72 VA to 2000 kVA range, for single modules. For higher ratings, these can be paralleled to deliver 12000 kVA. Fuji Electric's high efficiency UPS helps in reducing costs, weight, footprint and heat.
Instrumentation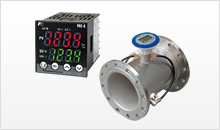 We offer a wide range of water quality meters, including PH meters, turbidity meters, residual chlorine meters, non-reagent free chlorine meters, and alkalinity meters to monitor the production of safe and refreshing drinking water. Ultrasonic flow meters are easily attached to existing piping to measure liquids that allow passing ultrasonic waves, such as coolants and industrial water, from the outside of the pipe. We offer a portable meter that is strong against bubbles, a small meter, a hybrid meter that utilizes both the Doppler flow and transit time methods, and a small and lightweight compact meter.
Cast Resin Transformer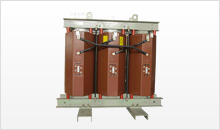 Our position as a global manufacturing leader enables us to offer our customers a cutting-edge incombustible transformer, which utilizes the superior insulation characteristics and the self-extinguishing characteristics of epoxy resin. Fuji Electric customers rely on our cast resin transformers for a wide variety of applications and installations, with units in operation in various buildings, hospitals, public facilities, factories, and so on.
Oil Type Transformer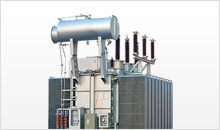 Moving ahead in society with such advance technology, Fuji Electric opens the door to the market with its highly refined Oil transformer that is stable at high temperature and has execellent electrical insultaing porperties. Alternatively, Fuji Electric provide solutions to our clients of different needs through customeization. Where some customer perfer Vegetable-based oil also known as FR3 Oil as it have a high fire point of over 350°C and K-class fluids which are often used in high-risk transformer applications, such as indoors or offshore.
Drive System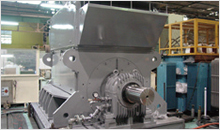 Fuji Electric offers Variable Speed Drive, Servo Systems, Motors/Motor-applied products, Synchronous drive systems, and other equipment necessary to drive and control factory equipment and machine tools.
Power System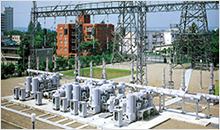 Fuji Electric offers switching power supply systems for embedding in information devices and facilities equipment such as servers and supercomputers; uninterruptible power supply systems(UPS) to handle power source troubles such as outages and voltage fluctuations; and power conditioner subsystems(PCS) that efficiently convert electricity.
Power Transformer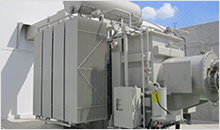 Fuji Electric offers variety of transformers such as Oil immerse Power Transformer (up to 315MVA), Distribution Transformers made in Thailand. Also, Cast Resin Transformers (Dry type) made in china with affordable price for dedicated market demands in SEA region. All of our Transformer has totally equivalent quality of made by Fuji Electric Japan.
Switchgear (LV, MV, HV)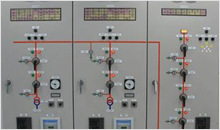 Switchgears in these main substations are of high importance for the safe and flexible operation of the transmission and distribution system. It has to be very reliable during its lifetime, flexible in configuration, easy to operate with a minimum of maintenance. This type of switchgear insulation (air or SF6) is determined by local conditions, e.g. space availability, economic & environmental considerations, building costs and the relative importance of maintenance. Fuji electric offers switchgears from the voltage range of 1V upto 245kV and current ratings cover all possible technical combinations meeting JIS, JEM and IEC requirements.
Energy Saving Solution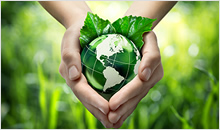 As an expert of energy related business ( Energy Creation, Energy Management, Energy Saving) with 90 years accumulated technology, Fuji Electric will provide total solution of service from energy auditing & consulting to products, technical service to customers which can meet different kinds of customer's needs. Fuji Electric provides Energy Saving ESCO solutions (Consulting and implementation of measures concerning the reduction of customer's energy costs) to overcome rising electricity price.
Semiconductors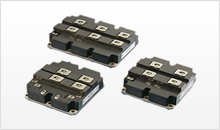 Fuji Electric provides power semiconductors, which contribute energy savings for industrial, for electronic vehicle and for home appliance application.
After Sales Service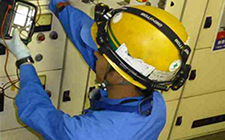 Fuji Electric provides variety of service such as site commissioning, repairing (Shop & Site), preventive maintenance, upgrading, modifications, etc. Also, training service for products opreration, maintenance are available in respective countries.
Life Cycle Service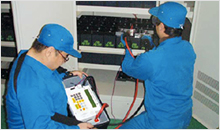 FUJI Electric provides solution for entire life cycle of customer facilities from new installation to renewal. Including costs to operate, maintain and upgrade equipments, recommendation for improve life span.